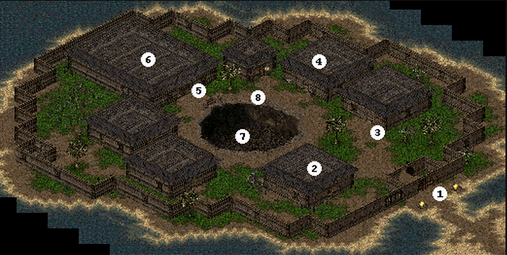 1) Human Guard - The Sorcerous Beast
2) Norian - Deliver Goods to Maximillian 
3) Cynthia Boggs - Help Cynthia Boggs Escape the Isle of Despair 
4) Jones the Collector - Find Some Objects from Shades Beach 
5) Ogdin 
6) Thorvald - Tell the Wheel Clan about Thorvald 
Wood Chest (locked) - 450 Gold, Thorvald's Journal, Wheel Clan Spectals Schematic
7) The Pit 
8) Gorrin the Pit Master
Other Areas:
None
Enemies:
None
Side Quests:
Deliver Goods to Maximillian
Find Some Objects from Shades Beach
Help Cynthia Boggs Escape the Isle of Despair
Tell the Wheel Clan about Thorvald
The Sorcerous Beast
Ad blocker interference detected!
Wikia is a free-to-use site that makes money from advertising. We have a modified experience for viewers using ad blockers

Wikia is not accessible if you've made further modifications. Remove the custom ad blocker rule(s) and the page will load as expected.