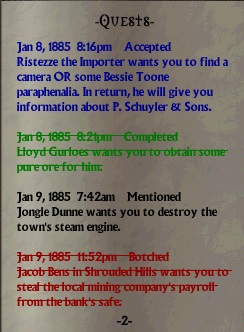 Quests are groups of interrelated tasks that the Living One can complete for various NPCs in the world of Arcanum. Many quests are connected to other quests and share a common plot-line. They are often rooted in a specific area, and their completion may be needed to access more of that area or specific features within it.
Quests often offer some sort of reward, such as training, items, or gold. Fame or infamy can be gained depending on actions taken and the outcome of the quest.
A quest can have four different states within the logbook:
Ad blocker interference detected!
Wikia is a free-to-use site that makes money from advertising. We have a modified experience for viewers using ad blockers

Wikia is not accessible if you've made further modifications. Remove the custom ad blocker rule(s) and the page will load as expected.