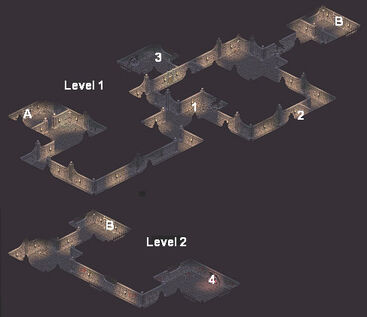 1 - Dragon Pool Key 1
 It's just lying on the ground. 
2 - Arcane Chest
738 Gold
Emerald
Kathorn Crystal
Morgana's Tears
3 - Chest with Dragon Pool Key 2
729 Gold
Dragon Pool Key 2
Diamond
Sapphire
Kathorn Crystal
Mnura Coin
Greater Fatigue Restore
4 - Dragon Pool 
When you click on it you'll receive a vial of dragon's blood. This is the blood Torian Kel in the Ancient Crypt wants. 
Exits:
A. Exit to the world map. B.
Exit between levels 1 and 2.
Enemies:
Dragaron
Greater Gowrath
Frigidon
Phage Dragaron
Wargunn
Voltax
Ad blocker interference detected!
Wikia is a free-to-use site that makes money from advertising. We have a modified experience for viewers using ad blockers

Wikia is not accessible if you've made further modifications. Remove the custom ad blocker rule(s) and the page will load as expected.